We'll Fetch - You Stay
Here at All Natural Pet Supply, we are proud to provide quick, reputable delivery services near Vancouver. Simply contact us at (360) 694-7387 to place your shipment. For an added convenience, inquire about creating a recurring delivery. Our local delivery drivers are delighted to help provide additional assistance for the aging, underserved, and special needs community; please let us know at the time of order if this is needed.
Same-Day Home Delivery is available to residential street addresses within 15 miles of any of our Vancouver, Wa. area All Natural Pet Supply stores and in Clark county only.
Same-Day Home Delivery is available Monday through Friday, excluding major holidays (New Year's Day, Memorial Day, Easter, Independence Day, Labor Day, Thanksgiving and Christmas).
Orders are normally delivered Monday-Friday, from 2 PM to 7PM.
All orders received by 1:00 PM on a regular business day, Monday through Friday, will be delivered that day by 7:00 PM.
Any delivery orders placed after 1:00 PM, or on the weekend, will be delivered the following, non-holiday weekday (usually Monday) by 7:00 PM.
Our In-Store Pickup service is FREE.Same-Day Home Delivery is FREE for all purchases over $75.00. All other orders are charged a $5.00 delivery fee.
No, but all orders less than $75.00 will be charged a $5.00 delivery fee.
No. We will always knock or ring the bell when arriving with your order. If no one is home, we will neatly place all items near the front door.
No. Frozen product is not currently eligible for delivery.
All orders must be placed on our website, shop.allnaturalpetsupply.com Please select Home Delivery during checkout.
Yes. All orders placed through our website automatically earn loyalty points. Eligible food and litter purchases will also receive frequent buyer benefits. Please set up your online account using the SAME name and email address that you use for your Fivestar Rewards Program. Then we will make sure your points are accurately tracked in our system and applied to your account. They'll be ready and waiting for you to use the next time you shop in the store. However, they will not appear in your online account at this time.
Please email us at storeinfo@allnaturalpetsupply.com.
All returns must be processed in person at our All Natural Pet East Location, please see our full return policy here.
*Rarely, situations out of our control, such as inclement weather or traffic delays, may affect delivery times. We will keep all delivery customers updated during these circumstances.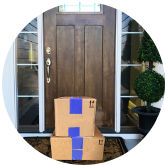 No-Contact Delivery
We now supply no contact delivery! We will certainly drop off any order right to your doorstep without ever having to enter into contact with our distribution personnel.

WHAT VANCOUVER CUSTOMERS ARE SAYING
We love our customers from Vancouver areas around Parkrose, Canine Utopia, Fisher, Ellsworth, Russell Landing, North Image, Evergreen, Mill Plain areas.
Come visit our pet supply store in Vancouver, WA specializing in quality food, treats, and supplies for cats and dogs.